Apple\Way Project studio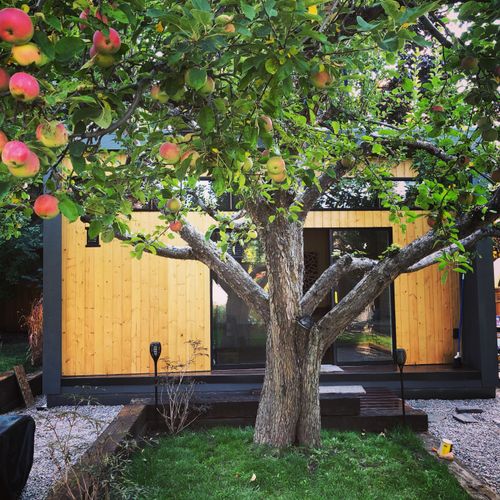 Big studio sound. Small studio prices.
end-to-end production service in missoula, mt
Apple\Way is a purpose-built, acoustically-engineered, dedicated recording studio space that can produce broadcast-quality, professional audio. It's where Catnyp rehearses, writes and records. Rates  $25 per hour for 4 hour minimum session.
A streamlined less-is-more, quality-not-quantity mindset and workflow in design and operation prevails.
Logic Audio Pro X
Monitor A - matched Behringer Truth powered monitors
Monitor B: Avantone passive monitors through a MPA-250 amp
Universal Audio Apollo Twin interface*
Universal Audio SOLO/610 tube pre amp (warm? very)
AKG C414 and c3000 mics
Rode NTK tube mic
SM57, 58
Griffon Fuzzyphone
Alesis Surge MESH electronic drum kit
MESA/Boogie Subway 800 bass amp 
2 x Ampeg 210 bass cabs
Vox 100w guitar amp
Vox Mini-Beatle 50w bass amp (1x10)
Vox Mini-Beatles 25w guitar amp (1x8)
2 x Ampeg bass pre-amps
TEAC M5 8 channel analog desk with Burr Brown pre-amps into a TEAC 3440 1/2" 4-track reel to reel 
A dozen or so various guitar and bass pedals
25 guitars ranging from Rickenbacker basses to Rickenbacker guitars, Eastman 12 and E10D, Fender Jag and Tele, Epiphone Texan acoustics, Hofner bass, Silvertone vintage guitar, Vox Apollo bass, Danelectro longhorn bass, Jazz bass, Takamine 12 string, Yamaha 12 string, Hofner Cavern bass, Gretsch double anniversary, Cort Yorktown and more.
Alesis vintage synth
MIDI controller keyboard
Vocal booth
*Universal Audio's Apollo Twin MkII DUO improves on the acclaimed Apollo Twin interface with next-generation AD/DA converters for astonishingly wide dynamic range and ultra-low THD. And with expanded monitoring controls, the Apollo Twin MkII DUO packs console functionality into a desktop interface for Mac and PC. With built-in UAD processing, the Apollo Twin DUO lets you take advantage of the rich, warm, analog sound of UAD Powered Plug-ins during mixdown — and even in real time during tracking. Speaking of tracking, the Apollo Twin's astounding Unison mic preamp technology lets you re-create the sound of classic mic preamps in a way that software processing simply can't match. The Apollo Twin MkII DUO also boasts compatibility with UA's LUNA software, giving you a tightly integrated recording, editing, and mixing environment, with full software-based control over your interface's parameters, global console and tape emulations, and advanced real-time tracking.